ブログ
SellBuyMusic会員のための有用な情報と読み物
Royalty-Free Websites Comparison
To Be a CREATOR, it is not an option to use Royalty-Free Music in your creation.
Many of you might be wondering which one to choose from among the many royalty-free music companies.
This posting is to help those who are struggling because they couldn't decide which website to use, and need to compare plan type, price and convenience at a glance.
1. Types of Subscription plan
Before jumping on to the main topic, we have to mind that most of royalty-free music websites, prices and types of plan are different depending on who is using it( personal, commercial or enterprise).
Chart Below is about which kind of plans each company have.
SellBuyMusic

Artlist

Epidemic Sound

Premium Beat

Personal

By Track

Monthly Plan(5 Tracks)

Commercial

Enterprise

Inquiry Required

Inquiry Required
Epidemic Sound and Premium only have monthly plan, whereas SellBuyMusic and Artlist only have annual plan.
Images Below is prices of 'Personal' plan (Except for Artlist, because Artlist applies same plan for personal and commercial members)
SellBuyMusic and Premium Beat also have a 'by track' option, which will be useful to creators who need only small number of tracks.
Price of 'by track' option is $5 for Personal use and $18 for Commercial use in SellBuyMusic, and $49 for Standard License, $199 for Premium License in Premium Beat.
2. Price
Price is the most important factor to consider when deciding which company to choose.
Let's compare SellBuyMusic, Artlist and Epidemic Sound's Price.



According to the pricing Chart, Personal Monthly prices of Subscription of each website are not much different from one another.
In case of Commercial Plan however, SellBuyMusic had the highest discount rate when compared to Artist and Epidemic.
1. Features
Most of the Creators feel they are wasting ton of time searching for background music. So features each website provide is therefore an important factor of choice.
Let's break down which features each website provides one by one.
1)Artlist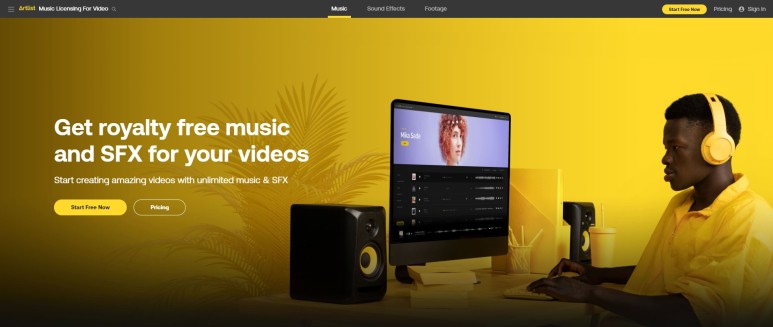 When you scroll down from the main page of Artlist, you can find a section that you can search music by Mood, Video Theme, Genre and Instrument.


On the right side of each track there are download, wishlist and share buttons.

2) Epidemic Sound
Epidemic Sound has more complex UX compared to Artlist.
You have to scroll down until you see section like image below.
Then click "Music" in the list at the bottom of main page.
It is little bit harder to search bgm list in Epidemic Sound, but "similar track" feature is what you cannot find in Artlist.
Icon in the middle with two overlapping circles will find you tracks similar to selected track.
3) SellBuyMusic
Like other websites, SellBuyMusic also sorted its music by Mood, Genre, Instrument, Theme, Tempo and with/without vocals.
You can select multiple tags from each category at the same time, which makes it easier for you to find exact track you are looking for.
Like Epidemic Sound, SellBuyMusic provides "Similar tracks" features(Icon on the left) as well as 'add to playlist', 'wishlist' feature.
SellBuyMusic also has "Daily New" Section on its main page, which is list of fresh tracks updated every day.
Thousands of musicians are SellBuyMusic members, and they specializes in New Age, Electronica, Jazz, Classic and so on.
Moreover, SellBuyMusic gives out some of their tracks for free, all of the SFXs for free. All you have to do to get these tracks is to be a member of SellBuyMusic.
So Don't Miss out the opportunity of getting high- quality Music and SFX for free!